Witness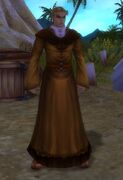 You need to be at least Level 46 to receive this quest.
You need to be at least Level 40 to turn-in this quest.
Summary
Take the Black Swordsman's Message Arrow to SHackle Coast and fire it at the wind-eaten curcular rock on the road to Weeping Coast.
Goals: Witness the Black Swordsman's battle
Notes
Spoiler Alert!
We have some more information about how to perform this quest but recognize you might want to try it on your own before we tell you the secret...
The place to fire the arrow is about 53.0, 24.0.

Big Dennis

will enter and collapse, followed by 3

Shadowmoon Wanderers

who taunt him, then leave him alive. IF you are slow to talk to

Big Dennis

, you can talk to him back in

Ghost Town

.