Time is Short
You need to be at least Level 38 to receive this quest.
You need to be at least Level 32 to turn-in this quest.
Summary
Harrison of the Tower of Wailing Wind wants you to collect 20

 Ice Tears from the Snow Fields in the west.
Goals:

 Ice Tear
Details
I'm so ashamed. Through my mistake, one group member who was following me is still trapped in the Tower of Wailing Wind. I stepped on a trap which they had set and released poison. When I realized that we were surrounded by those cunning Gargoyles, Joanne used all her remaining magic power to transport me back to safety before I could do anything. Now she surely is still waiting for me to save her.
(Harrison is agitated.)

In the west of the Snow Fields is a strange plant called Ice Tear. Could you collect 20 for me? Then I can make a potion which will restore Joanne's mana.
Notes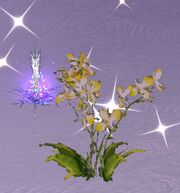 The Ice Tears are on the southwest side of Tower of Wailing Wind, near the Mysterious Grave and Explosive Trap, NOT in the Sea of Snow.
Completion
Spoiler Alert!
The information in this box could be considered a spoiler.
Great! We don't have much time! I'll start making the medicine!