Thank God for Alchemy
Main Quest Page: Mountain Herbs
Quest Diad





Main

:


Min Level: 97
Turn-in: 91





Daily

:


Min Level: 97
Turn-in: 91




Instructions
All quest groups (diads or triads) start with the Main, non-repeatable quest, which unlocks the repeatable quests.
Notes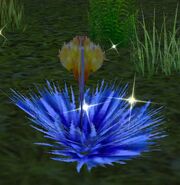 South of the camp, there is a Wild Herbs next to the big tree by the water, with a second one just across the creek. Watch the movements of the Inexorable League Scout and you can slip by him. Nothing paths here and re-spawns are quick.

At the second Herbs, be sure not to accidentally click on the Lowland Honey Badger, as this is likely to annoy him.
About Daily Quests
Daily Quests

are repeatable up to a total (for all

Daily Quests

) of 10 times per day. The count can be reset to zero by purchasing and using a  Daily Quest Ticket from the Item Shop (for 39 ($1.16)† ) or from any Phirius Merchant (for 780 ).

You can add to your XP and/or TP gain by using one or more Leveling Potions such as a  Dual-Function Daily Quest Potion.

The text displayed on this page cannot be edited here. To edit, go to the Main Quest Page at Mountain Herbs.