Strange Request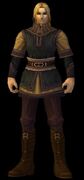 You need to be at least Level 4 to receive this quest.
Summary
Go to the west or north of Logar and collect 10 Beetle Organs from Beetles and give them to Gil.



Gil and I have known each other since we were very young. She is a kind-hearted girl, although she occasionally asks me to do some rather... unexpected things.

This morning, Gil asked me to go get some Beetles near the village and remove their Internal Organs, though what she wants to do with that mess of insect glop is beyond me. Truth be told, this strange request unnerves me a bit.

Still, I'd be willing to do it, were it not for the fact that I must tend to these horses. As much as I never thought I would be saying such a thing, can you help me collect some beetle entrails?

Beetles can be found to the west and north of Logar.
Gossip
Beetles can be found to the west and north of Logar. Though they are not aggressive, their bite can be rather painful, so take care.
On Completion
Did Dell ask you to give these to me?

Good! By the time I'm through with this, Dell will have plenty to smile about...