Sewer Resident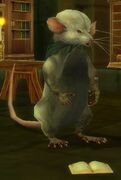 You need to be at least Level 54 to receive this quest.
You need to be at least Level 48 to turn-in this quest.
This quest becomes trivial above Level 64.
Summary
Answer the question from Freud Splinter.
Details
Yes...First...we must converse with each other...about personal values and so...the initial exchange is sacrosanct.
(Freud Splinter rubs the books in his hands and looks into your eyes.)
First, I'll start. I'm the resident of these sewers, called Freud Splinter. And you?
_PLAYERNAME_, is that how it's pronounced? An interesting name. Where are you from?
Notes
Spoiler Alert!
We have some more information about how to perform this quest but recognize you might want to try it on your own before we tell you the secret...
The answer sometimes is Candara, sometimes Kolydia! It changes. Probably either answer is accepted.
Gossip
Spoiler Alert!
The game provides some further information that may, or may not, actually help...
Where do you come from?
Completion
Spoiler Alert!
This text may, or may not, contain information about future tasks or game lore...
The world you describe is more beautiful than I imagined. I hope that one day I can enter that world of sunshine.