People's Opinion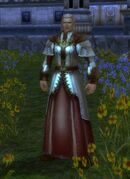 You need to be at least Level 33 to receive this quest.
You need to be at least Level 27 to turn-in this quest.
Summary
This quest is from Humbo Schurtz:

Using the Golden Ostrich Disguise Mk50, "use" the "Happy Cry" skill before the villagers in Medanor, Engwor, Sternhorn, and Tomara, and observe their reactions.
Find Humbo Schurtz at Dalanis after the task is completed.
Goals: Go to the villages and get the resident's reactions
Event Daily quests are repeatable, but only once per day unless a Festival Reset Ticket is used.
Daily Quests

are repeatable up to a total (for all

Daily Quests

) of 10 times per day. The count can be reset to zero by purchasing and using a  Daily Quest Ticket from the Item Shop (for 39 ($1.16)† ) or from any Phirius Merchant (for 780 ).

You can add to your XP and/or TP gain by using one or more Leveling Potions such as a  Dual-Function Daily Quest Potion.