Origin
Chapter II Instances: Heart of the Ocean, The Origin, Hall of Survivors, Cave of the Water Dragon
---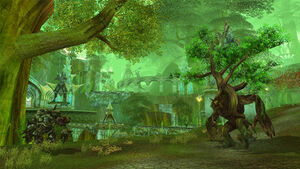 The magic from the Elves who once inhabited this region is now very faint and it is now the dark side of nature that prevails here. Free the valley of mutated beetles, ravenous giant worms, elemental creatures and other diabolical presences.— from us.runesofmagic.gameforge.com
Please see Instance List for a table of all Instances, by the zone they are found in, and the quests that are involved with them.
The more you advance into the Deep Corridor, the bigger everything becomes. For that reason it is said to be a holy tree, which has existed since the world's beginning. Even more mysterious though is the cavern beneath it. It looks as if the tree's roots keep an underground space clear. In the great cave some things can be found, which are apparently not of natural origin. Inferring from the roots growth the cave must have been there even before the Holy Tree, which is why it is called the "Origin". Actually the cave was created by ancient mythical beings and in it the "Holy Truth" was stored.
Later on all the knowledge was lost with the disappearance of the mythical beings. What kind of relation does that knowledge have with the oracle? Is it the oracle itself? Nobody knows for sure.
Level 55+
Tank - 20k HP unbuffed
Healer - 15k HP unbuffed, 10k+ Group Heal (non-crit)
Damage Dealers - 15k HP unbuffed, T7 weapons
Life Leecher
Life Leecher [Mutant Blood Worm King] (56 Crown Elite)
Related Quests:
Strategy: strategy needed
| Difficulty | Easy | Normal | Hard |
| --- | --- | --- | --- |
| Hitpoints | n/a | 1,200,815 HP | n/a |
|  Ancient Mementos | n/a | 3 | n/a |
---
Razor Lurker
Razor Lurker [Mutant Giant Bug King] (57 Crown Elite)
Related Quests:
Strategy:
The Ancient Elven Elemental Messenger Spirit tells you that you can kill him or help his comrades. Go around the circle and kill all the Mutated Poison Bugs and you become a Stone Elemental! In this form you have only 3 skills.
| Difficulty | Easy | Normal | Hard |
| --- | --- | --- | --- |
| Hitpoints | n/a | 1,262,314 HP | n/a |
|  Ancient Mementos | n/a | 3 | n/a |
---
Lorlin and Taburen
Lorlin and Taburen [White Gold and Golden Ents] (57 Crown Elite)
Related Quests:
Strategy: strategy needed
| Difficulty | Easy | Normal | Hard |
| --- | --- | --- | --- |
| Hitpoints | n/a | 1,202,272 HP | n/a |
|  Ancient Mementos | n/a | 3 | n/a |
---
Holy Tree Falynum
Holy Tree Falynum [Giant Guardian Tree] (58 Crown Elite)
Related Quests:
Strategy: strategy needed
| Difficulty | Easy | Normal | Hard |
| --- | --- | --- | --- |
| Hitpoints | n/a | 1,801,315 HP | n/a |
|  Ancient Mementos | n/a | 6 | n/a |
---