Minotaur Territory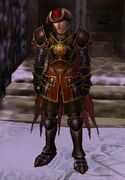 You need to be at least Level 38 to receive this quest.
You need to be at least Level 33 to turn-in this quest.
Summary
Enter Snowhorn and find Philinde's tracks.
Details
Are you here because you got my message?

We're recruiting a group of experienced adventurers... the fact you're here means you've already made the grade.
Right now we have one mission- we need someone like yourself to storm into Snowhorn and find the captured scholar Philinde.
However, I should warn you, Snowhorn is the territory of the Snowhorn Minotaur Tribe and all humans that enter are considered intruders. I'll send as many men as I can spare to assist you, but you'd better take all your equipment and companions along too. Good luck with the mission! I hope you return in one piece.
Notes
You do NOT have to find his footsteps. They are located at , but you can just go talk to Philinde.
Philinde is the guy in the cage at the bottom of the entrance to Mystic Altar. You can easily "train" all the way down to the room he is in. IF you followed our advice, you dropped some ink near him...
Completion
Are you the people sent by Shamar?
Save me? Oh...oh right......that's right! I've been captured!
Those guys kidnapped me and brought me here! But why would they want to kidnap me?
umm...
No, right now the most important thing is to get out of here.