Medicine Supplies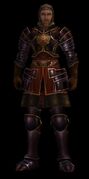 You need to be at least Level 28 to receive this quest.
You need to be at least Level 22 to turn-in this quest.
Summary
Collect 10

 Crow Grass and 10

 Deer Blood for Kurami in Khazor's Watchtower.
Details
Let me look... The outpost doesn't have enough medicine to keep out the cold!

Let me look at the inventory...

We don't have much

 Crow Grass or

 Deer Blood. We'll need to go hunting. I remember that there are Crow Grass near Khazor's Watchtower you can gather. Dear Blood can be taken from Khazor Reindeer near here. I guess that I would need about 10 of each. Please go quick!
Notes