Materials for Mending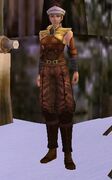 You need to be at least Level 29 to receive this quest.
You need to be at least Level 23 to turn-in this quest.
Summary
Gather 10
 Silver Ores, 5

 Bitterleafs and 4

 Soft Deerskins for Lewis Tani at Harf Trading Post.
Details
I don't have enough materials so I can't fix it straight away!

I need to ask you to gather 10
 Silver Ores, 5

 Bitterleafs and 4

 Soft Deerskins.
You can hunt down or gather all these materials nearby. When you have them bring them to me and I can fix this equipment straight away.
Notes
You need two Harvesting professions to do this by yourself. Probably, you will need to ask friends to get some of the materials for you.

 Bitterleaf (locations) requires Herbalism (14) to harvest, and
 Silver Ore (locations) requires Mining (32)! Neither of the gathered items are bound so feel free to use a higher-level toon to gather them and mail them to you. The

 Soft Deerskin drops from Khazor Reindeer. I am sure you will be expected to gather this yourself.

Good, forward-thinking, low-to-mid-level guilds will keep stacks of

 Bitterleaf and
 Silver Ore in the guild bank just to help members with this quest.
Gossip
Hurry...The quicker you collect the items, the quicker I can get to work.

You can't find
 Silver Ore?

 Bitterleaf? You can also purchase these items!
Don't worry! I'll give you money for the materials!
Completion
You did well. I can mend the equipment now.