Lifting the Vitality Spell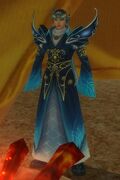 You need to be at least Level 96 to receive this quest.
You need to be at least Level 90 to turn-in this quest.
Summary
Go through the Inexorable League's various camps on Tasuq. Find out where Mazzren's Ghost is hiding and eliminate him.
Notes
Wander around Dust Camp or Shadow Camp, killing mobs and using the Soul Compass until you find (and kill) Mazren's Ghost.
| | |
| --- | --- |
| | This will not work if you just go to the spot where the ghost may be found. You have to start away from him and use the compass as you approach him or he will not appear. |
Completing this quest unlocks the portal to Korris.