Expert in Material Distribution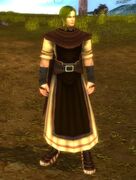 You need to be at least Level 59 to receive this quest.
You need to be at least Level 53 to turn-in this quest.
Summary
Kargath Duran of Kafarg's Lair wants you to ask Morrok Wallinder how to distribute the work and follow his instructions to get the items he requested. Then, report the results back to Morrok Wallinder and deliver the ingredients to Kargath Duran.
Details
The situation really doesn't look good...but thankfully the dragon's breath has extended her life.
These symptoms look similar to the poison once used on Fernando Cosmo. I remember it was some...some demon who used it on him. But how could it appear here and now? A corpse manipulating demon and poison...hmm...
I can't think of anything! But the antidote has been burned into my brain. I would bet my head on it...
But the ingredients will be hard to get. We need some Devil's Paws from the desert...treating poison with poison is one method. Also,

 Scorpion Tails of the Oasis Scorpion and five Venomous Fangs from Zanka Sand Vipers.
As far as how to split up to get them, go ask Morrok Wallinder. I have no idea.
Notes
Spoiler Alert!
We have some more information about how to perform this quest but recognize you might want to try it on your own before we tell you the secret...
All you need for this quest are the

 Scorpion Tails.

Loub Ayekin

and Morrrok got the other two for you. So, talk to

Morrock Wallinder

(in the cave) and he completes the objectives. (IF you cannot seem to finish this quest, make sure you have bag space open to receive the items from Morrok.
Gossip
Spoiler Alert!
The game provides some further information that may, or may not, actually help...
Go ask

Morrok Wallinder

! He'll have the best idea of how to distribute the work.
Completion
Spoiler Alert!
This text may, or may not, contain information about future tasks or game lore...
Very good...the next work will be a massive undertaking...