Different Types of Rune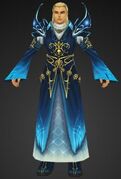 You need to be at least Level 10 to receive this quest.
You need to be at least Level 8 to turn-in this quest.
This is a GROUP quest. Good luck.
Summary
Get a Rune of Bandit's Reflexes from Yuri, a Rune of Steadfast Defense from a Copper Shell Beetle, and a Rune of Natural Intelligence from a Colorful Ostrich. Then bring all three to Alfreto.

Recommended group: Three players
Details
Alfreto is a good student, and knows how to use the runes well. You must also be interested in the power of the runes. There are certainly many types. Some say that they are the manifestation of the oracles and if you possess one you can master the power of the world.
I think this is nonsense though. Even without runes, men can rely on their own power to master this world. But you cannot ignore the power of the runes.
Gather a few more runes and give them to Alfreto
Recommended group: Three players
Notes
Spoiler Alert!
We have some more information about how to perform this quest but recognize you might want to try it on your own before we tell you the secret...
Once this quest completes,

Holly Gordon

will appear and shout something at

Alfreto
Completion
Spoiler Alert!
This text may, or may not, contain information about future tasks or game lore...
Great with these runes I will be able to do more tests! You will help me right?