Chrysalia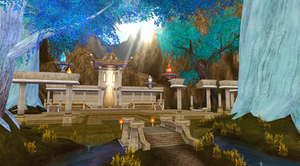 A region torn asunder by the ravages of war. The tribes that call this land home have taken up arms against one another, and you'll get caught up in the crossfire! Your journey begins at the last bastion of King Kalume and his alliance and continues deep into the heart of Chrysalia, following closely in Maderoth's wake.— from us.runesofmagic.gameforge.com
How do I get to Chrysalia the first time?: From Ancient Kingdom of Rorazan through the Dranfar Production Plant.
Best route from Varanas to Chrysalia: Snoop Portal to Ancient Kingdom of Rorazan, then to Chrysalia.
Ailic's Community Transport Portal Location: Sagthorne Camp
A very strange zone, the ONLY places with ANY merchants is the Lake Camp Rest Area, between Edliss Ruins and Naghur's Front Lines, and Sagthorne Camp. There is no other place in this zone where you can sell your loot.