Carfcamoi's Treasure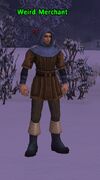 You need to be at least Level 33 to receive this quest.
You need to be at least Level 27 to turn-in this quest.
Summary
You are required to collect three items: Carfcamoi's Earrings, Carfcamoi's Necklace, and Carfcamoi's Crown.
Goals: Retrieve the following:
Carfcamoi's Earrings
Carfcamoi's Necklace
Carfcamoi's Crown
Notes
Note that none of the three items you need to gather are actual items.They are just named updates to your journal.
Carfcamoi's Earrings: Speak to Barbara, the widow of Master Anelsi, at Harf Trading Post. She sends you to Hadley at Khalara Watchtower, who starts the quest [35] Where are the Earrings?. Go to "The Stag's Head" in Harf Trading Post (next to Barbara) and ask Atiya about the earrings. It is a long story, but you do finally get them.
Carfcamoi's Necklace: First speak to the drunk, Blake in Harf Trading Post. He is quite drunk, having traded the necklace to Tanilof for alcohol. For further information about the necklace you are required to complete the quest [35] Blake's Liquor Money. This sub-quest is a simple errand run to Tavern "The Distillery" in New Moon Forest of Aslan Valley for Bark Spirit. Speak with Cynthia near the fireplace surrounded by suppliers to receive the Bark Spirit' (when Bark Spirit appears next to her, click on it to "lift" it). Now deliver it to Tanilof to get Carfcamoi's Necklace! You MUST physically carry it through the tunnel, you cannot use the Snoop portal to port to Harf Trading Post, but you MAY ride a mount.
Carfcamoi's Crown: While you're at Tavern "The Distillery", speak with Sadua for information about the crown. He has a touch of amnesia from being hit in the head one too many times...but give him 300
  and he will happily point you in the right direction. The information is another sub-quest called [35] The Whereabouts of the Crown which sends you to Snowhorn back in Ystra Highlands. You are sent to locate a mage, or more precisely his body. You must find the mage's body (Mage's Corpse at 65, 69 near Ralpher Dark Moon). Completing the quest will net you Carfcamoi's Crown.

Now, return to the Weird Merchant. He declares that he lied to you, and that he IS Carfcamoi! With that statement, the illusion fades and he is revealed as the goblin, Carfcamoi. Defeat him to complete this quest and begin the finale, [35] Carfcamoi's Apology.



While you are back in Aslan Valley, be sure to take a look at any of the Elite quests you may have left undone, there, and take this opportunity to wrap them up!
and many more...