Bone Peak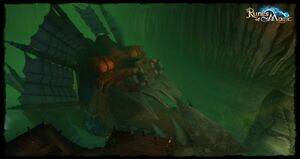 Looming ominous into the skies, Bone Peak casts a towering shadow over the region. Could this be the source of all this evil? Venture deep inside the mountain and overcome the challenges which await!— from us.runesofmagic.gameforge.com
Please see Instance List for a table of all Instances, by the zone they are found in, and the quests that are involved with them.
You must complete [95] Justice Cannot Wait to unlock the portal entrance to this zone and the quests that take you here.
Quest giver NPCs for this zone are found at the Falcon Regiment camp in Mudwater.
All bosses in Bone Peak can drop the following items:
---
Lorl and Sanbresha Gordy
Lorl Gordy (98 Crown Elite)
Strategy: strategy needed
| Difficulty | Easy | Normal | Hard |
| --- | --- | --- | --- |
| Hitpoints | 15,308,467 HP | 60,886,338 HP | 171,816,369 HP |
|  Ancient Mementos | n/a | n/a | n/a |
Sanbresha Gordy (98 Crown Elite)
Strategy: strategy needed
| Difficulty | Easy | Normal | Hard |
| --- | --- | --- | --- |
| Hitpoints | 15,308,467 HP | 60,886,338 HP | 171,816,369 HP |
|  Ancient Mementos | 9 | 34 | 60 |
---
Captain Maarsal
Captain Maarsal (98 Crown Elite)
Strategy: strategy needed
| Difficulty | Easy | Normal | Hard |
| --- | --- | --- | --- |
| Hitpoints | 14,563,542 HP | 37,748,068 HP | 147,553,298 HP |
|  Ancient Mementos | 11 | 36 | 70 |
---
Slogar
Slogar [Great King of the Kobolds] (98 Crown Elite)
Strategy: strategy needed
| Difficulty | Easy | Normal | Hard |
| --- | --- | --- | --- |
| Hitpoints | 16,412,770 HP | 65,278,482 HP | 367,454,514 HP |
|  Ancient Mementos | 15 | 38 | 78 |
---
Old Dan Gordy
Old Dan Gordy [Leader of the Splitwater Pirates] (98 Crown Elite)
Strategy: strategy needed
| Difficulty | Easy | Normal | Hard |
| --- | --- | --- | --- |
| Hitpoints | 16,412,770 HP | 65,278,482 HP | 397,947,990 HP |
|  Ancient Mementos | 16 | 40 | 84 |
---
Omnisoul Sarcophagus
Omnisoul Sarcophagus (98 Crown Elite)
Strategy: strategy needed
| Difficulty | Easy | Normal | Hard |
| --- | --- | --- | --- |
| Hitpoints | 16,435,031 HP | 65,367,018 HP | 429,088,113 HP |
|  Ancient Mementos | 20 | 42 | 90 |
---
Shabdoo
Shabdoo [Leader of the Tiktaaliks] (98 Crown Elite)
Strategy: strategy needed
| Difficulty | Easy | Normal | Hard |
| --- | --- | --- | --- |
| Hitpoints | n/a HP | n/a HP | 367,635,075 HP |
|  Ancient Mementos | n/a | n/a | 93 |
---
Istye
Istye [The Forsaken] (98 Crown Elite)
Strategy: strategy needed
| Difficulty | Easy | Normal | Hard |
| --- | --- | --- | --- |
| Hitpoints | n/a HP | n/a HP | 367,635,075 HP |
|  Ancient Mementos | n/a | n/a | 95 |
---