Battle for Mystery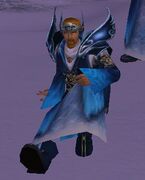 You need to be at least Level 40 to receive this quest.
This quest may be performed only once per day.
You need to be at least Level 37 to turn-in this quest.
Summary
This quest is from Harde:

At Mystic Altar, prevent Samoge from snatching Mystery.
Find Harde at Harf Trading Post after the task is completed.
Goals:

 Imprisoned Spirit of Samoge from Spirit of Samoge
Daily Quests

are repeatable up to a total (for all

Daily Quests

) of 10 times per day. The count can be reset to zero by purchasing and using a  Daily Quest Ticket from the Item Shop (for 39 ($1.16)† ) or from any Phirius Merchant (for 780 ).

You can add to your XP and/or TP gain by using one or more Leveling Potions such as a  Dual-Function Daily Quest Potion.
This battle takes place in Snowhorn outside Mystic Altar, at the base of the giant Minotaur statues.