Barricades of Steel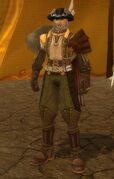 You need to be at least Level 100 to receive this quest.
You need to be at least Level 94 to turn-in this quest.
Summary
Destroy 10 Protective Barricades on the Scorched Steel Bridge and cross to the far side to meet up with Aydan Highlander and his troops.
Notes
The destruction of a Protective Barricade is a group update. So, if multiple members of your group are on the same quest as you, only one of you needs to click on a Protective Barricade for all of you to get the update for it's destruction. When you have finished you will find Aydan Highlander in the camp north of the Scorched Steel Bridge, to the left of the Naga camp.